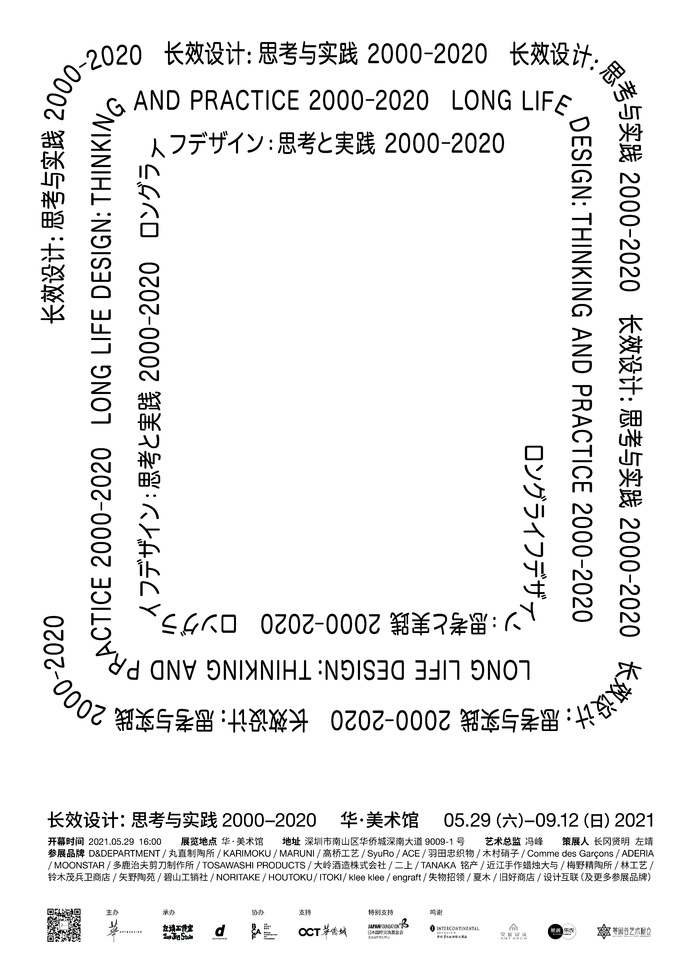 Long Life Design: Thinking and Practice 2000-2020
Duration: May 29th, 2021 – September 12th, 2021
Opening: May 29th, 2021, 16:00
Venue: OCT Art & Design Gallery, Shenzhen, China
Exhibition Director: Feng Feng
Curators: Nagaoka Kenmei, Zuo Jing
Teams
Exhibition Coordinators: Xie Anyu, Yu Minling
Exhibition Team: Meng Xiangyuan, Ye Fangqi, Huang Yue, Guo Yiyang
Public Education and Marketing: Chen Hang, Yang Tian, Cai Yingtong
Logistics: Pan Zhenggen, Li Tong, Zhang Jianxun, Dou Xiaochen
Accounting and Finance: Su Yanfen, Zhuang Qinming, Cai Peihong
Zuo Jing Studio: Wang Yanzhi, Zhang Xinyi, Zhang Xiangmei, Pu Jia, Guo Jingya, Yu Tingjie
BCAF: Cui Qiao, Hu Fei, Xuan Chunyi
Curatorial Team of Japan: D&DEPARTMENT
Space Design: Studio 10
Visual Design: PAY2PLAY
Translators: Sauesr Miho, Tang Shi, Huang Yiyi, Hou Yuxi
Presented by: OCT Art & Design Gallery
Organizer: Zuo Jing Studio, D&DEPARTMENT
Co-organizer: Beijing Contemporary Art Foundation
Special Suppot: The Japan Foundation, Beijing
Support: Shenzhen Overseas Chinese Town Co.,Ltd.
Acknowledgements: InterContinental Shenzhen, Ant Arc, EJU-lenong, Leisure Valley Art Granary
Participating Artists
KARIMOKU / MARUNI / MARNA / ADERIA / NORITAKE / HOUTOKU / ITOKI / ACE / KOTOBUKI / MOONSTAR / YAMAGIWA / TANAKA-MEISAN / LANDPROTECT / FUJIKI DENSHIRO SHOTEN / SUZUMO SHOTEN / HAMAMATSUYA / OTA MOKKO / FUTAGAMI / TAKEJI HASAMI / TAJIKA TAKEJI HASAMI / SANUKI KAGARI TEMARI / TOSAWASHI PAPER LAB / TOSAWASHI PRODUCTS / MARUNAOSEITOSHO / YANO CERAMICS / D&DEPARTMENT / TAKAHASHIーKOGEI /DAIICHI-GOMU /CO-UP GUARANA / SHOBU STYLE / KANAIKOUGEI / OIGEN FOUNDRY /HASEGAWA / YAMAUCHI SENSHOKU KOBO / Minoru Suzuki / HADACHU ORIMONO / TENJIN / SyuRo / comme des garcons / Ohmine Shuzou /FUTAGAMI / FUKURASHA /Gen-emon Kiln / SAGARICH / 13 O'Clock / SAKAMOTO / ONOE / NAITO SHOTEN / WAROSOKU DAIYO / Fores /Noboru Kiln Square Exhibition Studio Building / Saredo / Chiaki Morita /COEDO / Sghr / Ogawa fishing net store / Tekiseisha / Ocho camp / DAIKO PRODUCT / Umeno Seitosho / BIG JOHN /Yuki Okujun / iichiko /Kunibo Wada / Foucault / Sunamitooru Shoten / Kiso Mokyo / IS LIFE OLIVE FARM / Hokkaidou: Susumu Seto / Aomori: Hirokazu Shimamori / Iwate: Jun Tashiro / Miyagi: Murayama Koji / Akita: Hajime Tamura / Yamagata: Hiroyuki Shimoyama / Fukushima: Daisuke Kameta / Ibaraki: Chijin Takahashi / Tochigi: Yasuhiro Sasaki / Gunma: Masayuki Hagiwara / Saitama: Yoshiyuki Takahashi / Chiba: Kawasumi Ayako / Tokyo: Nishimoto Ryota / Kanagawa: Yuta Simizu / Niigata: Saori Omomo / Toyama: Takara Kinoshita / Ishikawa: Yamada Mako / Fukui: Mio Suzuki / Yamanashi: Goto Koichi /Nagano: Katsuhisa Hira / Gifu: Azuchi Sota / Shizuoka: Naotsugu Yoshida / Aichi: Tatsuya Okazaki / Mie: Yamamoto Ryohei / Shiga: Tetsuya Otani / Kyoto: Okumura Shisuke / Osaka: Dai Inagaki / Hyogo: Sachiyo Seito / Nara: Naomi Yamamoto / Wakayama: Toshgaki Umemoto / Tottori: Hiroyo Yamashita / Shimane: Isao Ishitobi / Okayama: Katsuhisa Kobayashi / Hiroshima: shunshun / Yamaguchi: Kazuaki Harada / Tokushima: Miho Yano / Kagawa: Akira Ishii / Ehime: Motofumi Sinohara / Kochi: Maki Morisawa / Fukuoka: Wada Yoshihiro / Saga: Yamamoto Ryohei / Nagasaki: Teppei Kojima / Kumamoto: Taro Takamitsu / Oita: Hiroshi Matsuda / Miyazaki: Sakimura Hisashi / Kagoshima: Daiki Sakae / Okinawa: Toshiyuki Tamamoto / Miyagi : Kesennuma Knitting / Yamagata: AKAONI / Saitama: Chiaki Morita / Gifu: Asano Shoten / Guangdong Yiqilai Environmental Technology Co. / Ltd / d design travel HUANGSHAN / klee klee / engraft / Lost & Found / SUMMERWOOD / JIUHAO / Design Society / Lian Yating (Algae Textile) / Li Lijun + Sun Wenxi (LSD LAB)
Foreword
Compared to the 4.5 billion years of the earth's existence, the 3 million years of human history is just the blink for the eye. In this short period of time, human beings have established a brilliant civilization through their imagination. This imagination is a brain function that distinguishes human beings from other earthly creatures—it fabricates everything and constructs the future. Design should also be a kind of imagination or something that continues to grow and be activated by imagination, rather than an industry or a skill only. But for the longest time, people have had a deep misunderstanding of design, which has to do with the prosperous consumer culture and material desires. Low-end "design" has become a tool for replicating materials, stimulating consuming desires and economic growth. Furthermore, it has intentionally or unintentionally caused many social and environmental problems. The "Long Life Design" exhibition at OCT Art & Design Gallery is an attempt to eliminate this misunderstanding and allow the society to re-understand and contemplate on the essence of design and life.
What design creates should be spirit instead of materials. In "Long Life Design: Thinking and Practice 2000–2020", what the audience sees are daily necessities, but what we truly want to highlight is the spirit that permeates these objects. We hope that through exhibitions, museum stores, seminars, publications and the long-term use of these items, the "long life" concept is able to flow and spread, and a "building of information" can be formed in the audience's cognition. "Time" is the singularity that triggers "long life design". Curator Nagaoka Kenmei claims that only "time" can make us happy, and "long life design" is our channel to happiness. Curator Zuo Jing has introduced the "long life" concept to China—the establishment of D&DEPARTMENT Huangshan, the discovery of local long life design products, and the series of publications and related activities have provided us with samples of how the concept of "long life" is manifested in China.
As the first design museum in China, "design" is the theme that OCT Art & Design Gallery has always been concerned with and hoped to surpass. The meaning of design should not be singular or fixed, but should continue to appear in new forms as human life changes. We have endeavored to expand the boundaries of design to connect the public and society—this is our mission as a design museum. As early as 2018, OCT Art & Design Gallery has held an exhibition entitled "Another Way to Design", and this "other design" has managed to receive a response today: although time never speaks, it answers all our questions.
OCT Art & Design Gallery
Introduction
"Long Life Design: Thinking and Practice 2000–2020" consists of ten sections: 1. What Is Long Life Design; 2. D&DEPARTMENT Store: The Proposal and Sales of Long Life Design; 3. 60 VISION: Original Missions of Long Life Design Enterprises; 4. NIPPON VISION: Regional Culture in Long Life Design; 5. d SCHOOL: Learning Long Life Design; 6. d design travel: Experience Journeys of Long Life Design; 7. d Food Research Institute: Tasting Long Life Design; 8. d47 MUSEUM: Long Life Design Museum; 9. DESIGN RECYCLE: Recycling Long Life Design; 10. To Practice Long Life Design in China. In conjunction with Section 5, we will also organize d SCHOOL programs around local sustainable goods and undertakings in Shenzhen during the exhibition; a D&Department pop-up store will be launched at the OCT Art & Design Gallery store.
Public Programs
Talk | How to Open an "Unprofitable" Shop: About Bishan Crafts Cooperatives
Time: May 23, 2021 16:00-17:30
Speaker: Zuo Jing
Venue: OCT Art
Talk|Territory and Strategy: From Bishan to Dananpo
Time: May 27, 2021 14:30-17:30
Speaker: Zuo Jing
Venue: Room 101, J Building, The Guangzhou Academy of Fine Arts (University Town Campus)
*Co-hosted by OCT Art & Design Gallery and Department of Experimental Art
Panel Discussion|Long Life Design in China
Time: May 30, 2021 10:00-12:00
Speakers:Zuo Jing, Zhang Zhiyuan
Venue: OCT Art

Workshop|Stray Cats, Used Clothing and Forest: A Solution to a Social Enterprise
Time: May 30, 2021 1st: 14:00-16:00 2rd: 16:00-18:00
Studio: JIUHAO
Venue: OCT Art